There is no sign of doubt that food binds all of us. When we talk about numerous cuisines all round the globe, Japanese Food pops up as an outstanding option. In fact, borders far from the region, Japanese cuisines enjoy the same popularity in India today.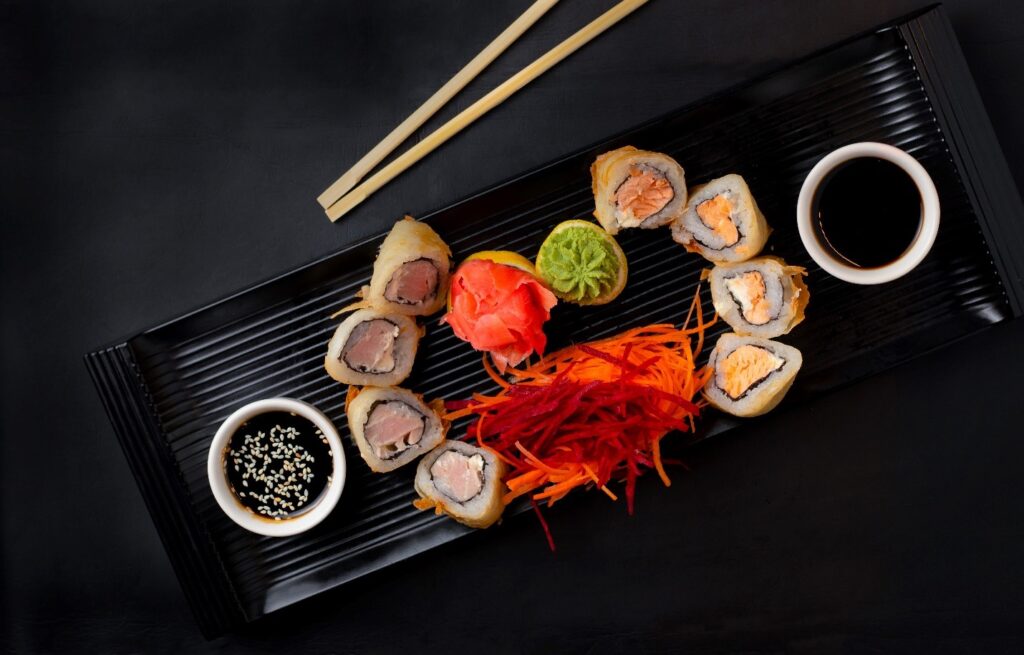 That's why to celebrate the essence of Japanese food, check out the best of Japanese restaurants in or around Delhi. So, rush up and let's hit these remarkable restaurants.

Guppy
Costing: 3000 for two.
Situated at the mid of Delhi, Guppy is made for the ones who love to celebrate the existence of Japanese food and culture. Be it their Amine-inspired courtyard or vibrant interiors, Guppy knows how to win the heart of every visitor. The unique placements of furniture and phenomenal wall-paintings take you to a parallel universe. At this place, you can treat your tastebuds to heavenly Sushi and your loving Seafood. Beyond the bars of Japanese perfection, Guppy is setting the targets for date-hubs in Delhi.
Shibuya
Costing 1800 for two.
If you are done looking everywhere and still unable to find a sophisticated Japanese restaurant then Shibuya Food and Bar is a one-go destination for you. Compiled with the magnificent black and copper feel of furniture placement blended with mouth-watering dishes is what makes your heart crave. The magnificent bar infrastructure and the separate unit of private dining will tie you in eternal love with this place.
Kofuku
Costing 1400 for two
Even the name of this restaurant resembles the vastness of Japanese culture. In Japanese Kofuku means happiness and this place signifies the ultimate dose of happiness for every foodie. Honoring the location of Khel Gaon, Kofuku is one of the most premium Japanese restaurants of South Delhi. Be it a date night with your partner or just another usual occasion Kofuku makes every meal extra special with plenty of options. Above all, the astounding setting of bright decoratives, shimmering table tops, and outstanding interior creates a phenomenal recognition of the place.
Fujiya
Costing 1400 for two
Well, here's some good news for you, since your search for an authentic Japanese restaurant in Delhi ends with Fujiya. The enthralling synchronization of Red and White interiors of these restaurants takes you to the streets of Japan on an imaginary level. Ranging from quality to taste to variety, Fujiya remains on the rocking edge of the customer's satisfaction. However, if you are planning to visit this place any time soon, do not forget to try their Sweet Corn Soup and Fujiya Special Sushi.
Pa Pa Ya
Costing 2500 for two
Redefining the craze of cozy restaurants, adorned with fancy interiors, furniture, walls and more, the food legacy of Pa Pa Ya is something worth experiencing at least once in a lifetime. Empowering the food-charm of Saket, Pa Pa Ya is more inclined towards a calm mood accompanied by the best dose of drinks. So far the matter of Japanese cuisine is concerned. You can always count upon Pa Pa Ya for celebrating your immortal affection for Sushi.
Final Words
We know that now you have found an implausible list of Japanese restaurants around or in Delhi. So, next time whenever you think about tagging along with any of your friends or family, simply remember to dine-in in these best Japanese restaurants.