Do we know a person who exists in this world and doesn't love Maggi? Absolutely no one! Maggi is the only food that pops up in our mind when we think of a 2:00 AM food. Whether it is its unique taste or the ease of cooking, Maggi always tops the chart and stands out in the list of easy and delectable foods!
But if you are bored eating the same Maggi noodles over and over again, then here we present you with some innovative yet simple to cook Maggi recipes. Go through the recipes mentioned below and treat your tastebuds to a delish meal!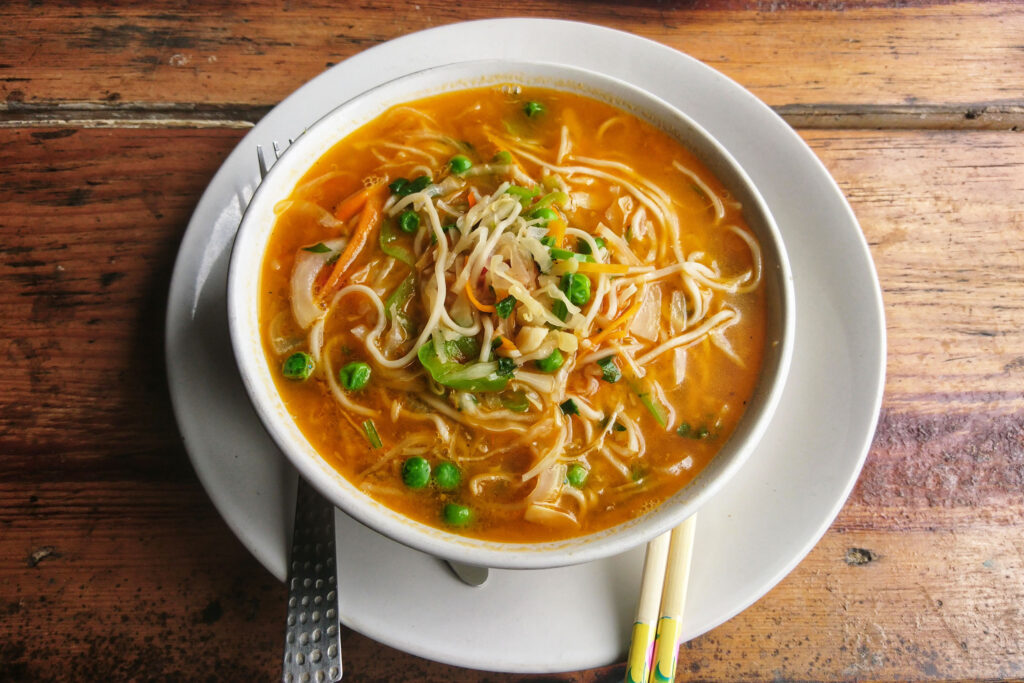 Top Five Maggi recipes
Here we detail the top 5 top easy and quick Maggi recipes, to leave your palette tickling!
Peri-Peri Maggi Ramen
Take a pan and add some butter to it. Chop one onion and green chili. Sautee the same till the onion becomes translucent. Add some finely chopped vegetables of your choice such as beans, capsicum, carrot, broccoli, etc. Add some seasoning like pepper and salt to it. Add a pack of Maggi and a tastemaker. Pour a cup of vegetable stock or chicken stock and let it boil. Finish by adding Per-Peri spice mix and a dash of cream.
Maggi cutlet
Have you ever heard about this one? Firstly, prepare the Maggi noodles with masala. Take a bowl and add mashed potatoes, finely chopped capsicum, carrot, bell pepper, and spring onion. Mix some salt and allspice powder. Add chopped coriander leaves. Add boiled and strained Maggi noodles. Mix gently. Shape them in cutlets.
Now make a flour paste by adding a tbsp of all-purpose flour, a tbsp of cornflour, a tsp of crushed pepper, salt to taste, and half a cup of water. Mix the batter well to make it lump-free and in a flowing consistency viscosity.  Now dip the cutlets in the prepared flour paste and cover from all sides. Further coat with bread crumbs well. Deep fry or pan fry in hot oil. Serve hot and crispy.
Maggi pizza
This one is going to drive your kids crazy. Prepare thick Maggi masala noodles. Take a pan. Add some oil. Spread a layer of Maggi masala noodles. Keep the gas on low flame and cover the pan. Let it become crispy from beneath. When it is done, switch off the flame and add grilled vegetables like onion, corn, mushroom, olives, etc. Add cheese on the top and cover the pan. When the cheese melts, take out Maggi pizza in a dish and serve!
Thukpa
Do you savor the soup? Prepare vegetable or non-veg broth. Use the broth to prepare a pack of Maggi noodles along with the tastemaker. When the same is boiling, add the vegetables of your choice or non-veg like chicken or prawns. Add mild spices like pepper powder, lime powder, or peri-peri powder. Garnish with spring onion and boiled eggs.
Maggi Bhel
If the name is enough to make you drool, this is the time to try out this unique Maggi dish. Maggi Bhel is nothing but a dry roasted Maggi where you can add some condiments of your choice. Add puffed rice, peanuts, chopped onions, chopped tomatoes, coriander leaves, and squeeze some lemon juice. Add some spices like chaat masala powder, black salt, and black pepper.  Add the tastemaker too and a few drops of ketchup to add extra zing.
Loved by people of age groups, devouring Maggi makes us happy and satiated. If the recipes above have already watered your mouth, then go on and try them!