As temperature rises, people look forward to having night parties in an outdoor setting or even in places that observe high snowfall, outdoor dining is a trend. All through the roads of Europe, the trend of outdoors is prevalent and is attached with a cinematic tag in our memories. Let us look at how can you create your own outdoor space for this purpose and make the most of it.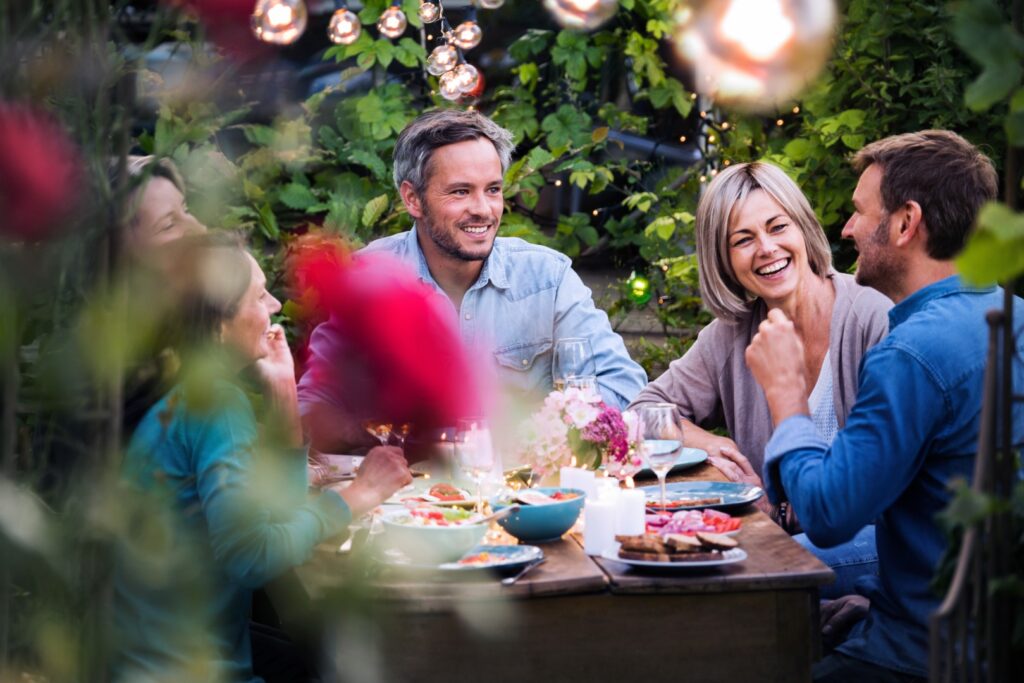 In colder areas, the warmer days are celebrated by hosting outdoor dinners and it does not take a big effort. You can create your own space in your balcony, or backyard and you can make use of tree ranch, the additional sofa, or the couch at your place. It is really fun to create a place like this which is both comforting and stylish.

Choose an aesthetic place with a view: Choose a place with some sort of natural view with it. It is a plus if the passers-by can also have a glimpse of it. Decorate the place with plants, photographs, souvenirs, and other such embellishments. More importantly, try to choose a space that has a pleasant open view but it should be proximal to places that are a major source of entertainment. It is not about luxury, a space like this, is made for and around your lifestyle. You can create a big area with world-class luxuries or a small, cozy and warm space both are equally good and worthy. You can also choose an indoor-outdoor setting.
Light up the space:  We cannot even think how much difference lights makeup in the place. They can be game changers when it is about the mood, the vibe, or the beauty of the place. Install lights that have a very warm tone that does not interrupt the beauty of the night. Some flowers or planter suits the place best.
Make the space comfortable:  An outdoor dining setting is perceived to be cozy, friendly and a go-to place, unlike the orthodox gourmet setting. It is important to set it like that so that whoever you invite could feel comfortable and enjoy the purpose of the outdoor setting for dining. This also includes proper furniture that can be modified or directly suit all weather conditions. Make sure the temperature is well regulated through an awning or tent to keep the guests and diners safe from the harshness of the weather. You can also provide shade in the form of an outdoor umbrella. The key concern with outdoor dining is insects, they can destroy all your efforts in seconds. We can combat the insects very successfully by using citronella candles that are decorative, and aesthetic and also keeps insects away from the dining space. Cover the serving trays and platters.
Make it accessible:  An outdoor dining space should be close to your kitchen to aid fast and hassle-free access. You can approach the kitchen from the dining area and vice versa without feeling lazy. Plus, having close access to restrooms is a crucial point. Also, not many people consider making this kind of space approachable too with a wheelchair. Many people who unfortunately for that period are recommended the use of a wheelchair also deserve to uplift their mood in an outdoor dining zone where there is only space for cheers and happiness.
Be conscious: Be conscious of the technicalities. You might install speakers or screens in your outdoor dining space but make sure the room has a soundproof wall that does not disturb your neighbor's comfort or somewhere around the window where the member of the family goes early to sleep.
Add a buffet table that allows guests to avail of self-service, the perfectly suits the friendly and informal vibe of outdoor dining. You can decorate it in synchronization with the theme of the day or party. A buffet table indeed is a great idea. But proper measurements that ensure easy access and service should be taken into consideration.
Lastly, no one better than you can make this kind of space more lively and welcoming. Strike your imagination and creativity and build up a space that has only positivity around.