What do you get in mind when you experience the scorching heat of the summer season and just want to cool off your mood? We bet Ice cream is one of the things which comes to one's mind.  Ice creams hold a special place in all our hearts from children to adults. It is not just a dessert; it completes other desserts. There are a plethora of flavours to choose from in ice cream. From classic Vanilla to Choco chip ice cream, strawberry, butterscotch, and other exotic flavours. Ice creams hold the power to bring us all together after a hearty meal! So, let's explore the Delhi ice world that offers both exciting flavour to our taste buds and attractive colours to the eyes.
1) Naturals Ice cream

Must try flavours – Tender coconut, Sitaphal
Location- CP
Cost- cost for two INR 300
The name says it all, Naturals is known for its authentic ingredients and fine taste. It's the place for people who don't want to compromise on quality. Their ice creams are low on preservatives, and they use finest ingredients to satiate your sweet tooth. You can find many exotic flavours on their menu. So, don't wait and taste the fruit chunks in a blend of creamy ice cream and take some for your family as they provide their ice creams in a cold container which will ensure that your ice cream doesn't melt and a cherry on top is that the place remains open till 1 AM.
2) Cold Stone Creamery, Vasant Kunj
Location- Ambience mall, Vasant Kunj
Must try flavours- Jamun Jeera, Mango, Black pepper
Cost – cost for two INR 300
Cold stone creamery offers you the aesthetic side of the ice creams. You can see the ice creams getting prepared in front of your eyes! They make their ice creams on cold granite stones and hand crush the ingredients so, they blend seamlessly in the cream and then they roll the frozen delight. It's just not a fancy the taste is equally delightful! Try this cold stone ice cream and see for yourself!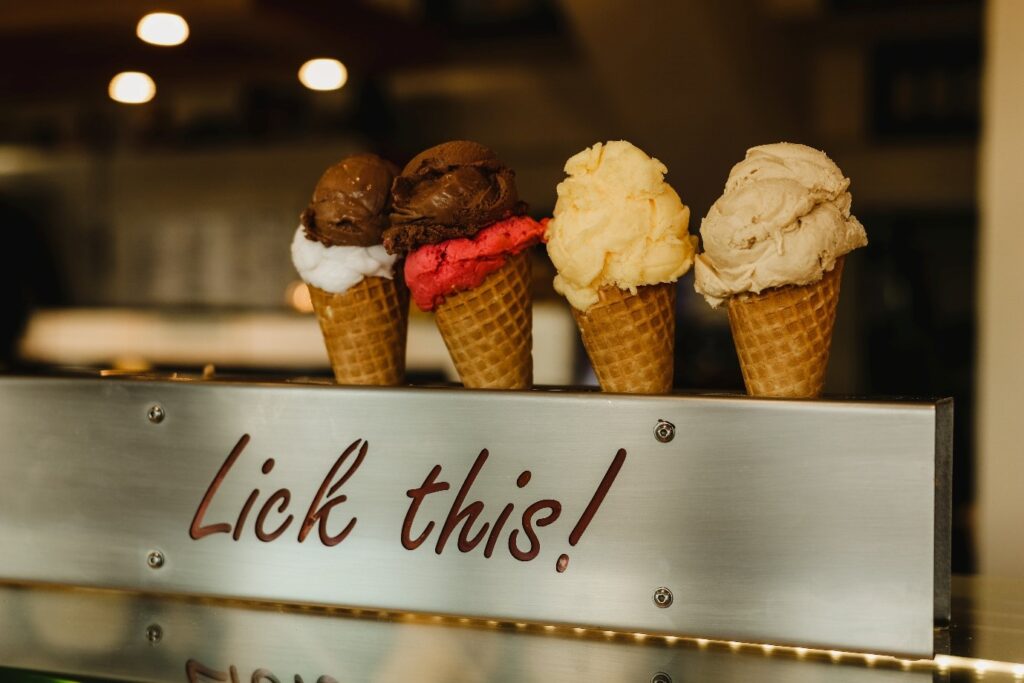 3) Giani's
Location – Multiple outlets
Must try- classic vanilla and strawberry, hot chocolate fudge, kulfi faluda
Cost- INR 200
Giani's is a reputed old chain giving you all the Indian classic vibes to foreign flavours! They offer a wide range of flavours like kulfi faluda, gelatos and even sorbets! They are living up to their brand name and you don't even have to think twice before trying this place!
4) Nirula's Ice cream
Location – multiple outlets
Must try- Nutty buddy, Hot chocolate fudge, American banana split
Cost- INR 500
When this brand comes in our mind, we are automatically reminded of our childhood days and relish the times that we savoured the oh-so-awesome ice creams from this place.  They offer all the classic flavours like chocolate, strawberry to international flavours which will leave you spell bound! So, have a catch-up with your friends and reminiscence the nostalgic memories!
5) Gelato Vinto
Location – multiple outlets
Must try – Sugar free butterscotch, Rich Belgian chocolate, Vegan sugar-free chocolate
Cost- INR 350
Gelato Vinto covers it all, a place where you can find numerous options for the fitness enthusiast!
Gelato Vinto offers delectable flavors keeping in mind the health factor so, you can gorge on your ice cream guilt-free. Their gelatos are 96% fat-free & 100% vegetarian. They cover all the options from sorbets to yogurts, gelato cakes to Italian ice creams so you won't miss on anything!
So, dig into the rich flavors and creamy treat to beat the Delheat!