Making unique and customised treats while baking can be a terrific way to express creativity. For a birthday or other special event, decorating a cake with unique colours, patterns, and toppings may make it a particular and unforgettable treat. Trying out different recipes from various countries, such as those for French croissants, Italian cannoli, or Japanese mochi, is another enjoyable component of baking. Furthermore, baking can be a relaxing and stress-relieving pastime that helps you concentrate on the task at hand and produce something tasty in the process. There's always something new to learn and discover in the world of baking, whether you're a novice or a seasoned pro.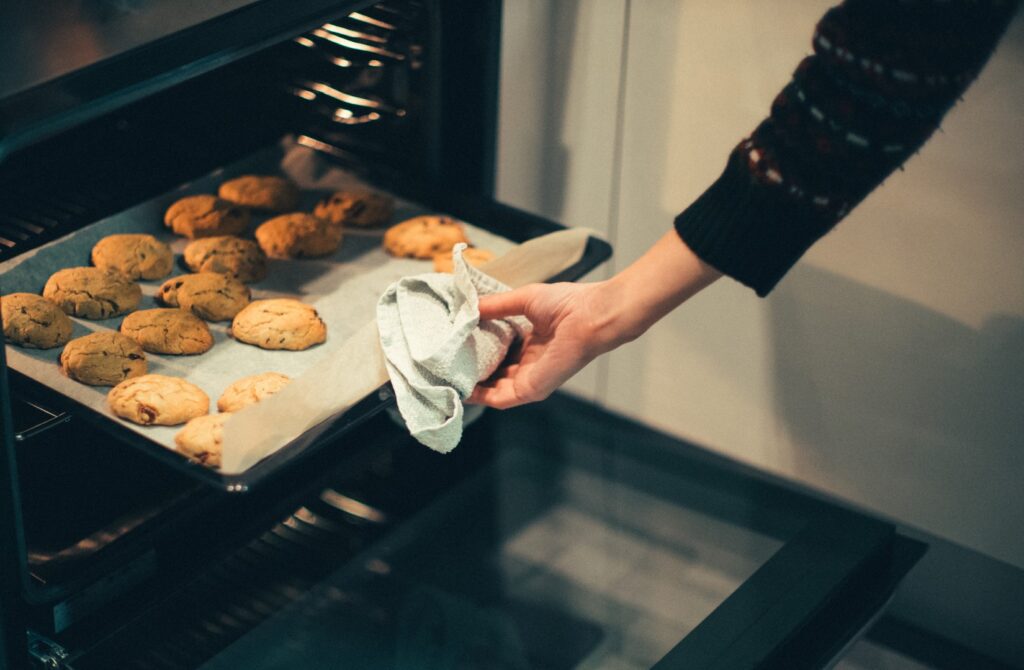 Here is a recipe for a classic dessert that can be enjoyed any time of the year
Chocolate Chip Cookies:
Ingredients:
2 and 1/4 cups all-purpose flour
1 tsp baking soda
1 tsp salt
1 cup unsalted butter, at room temperature
3/4 cup granulated sugar
3/4 cup brown sugar
2 large eggs
2 tsp vanilla extract
2 cups semisweet chocolate chips
Instructions:
Preheat your oven to 350 degrees F (180 degrees C) and line a baking sheet with parchment paper. 
In a medium bowl, whisk together the flour, baking soda, and salt. 
In a separate large bowl, beat the butter and both sugars together until creamy. Add in the eggs and vanilla extract and beat until well combined. 
Gradually add in the flour mixture and mix until just combined. Stir in the chocolate chips. 
Use a cookie scoop or spoon to drop dough balls onto the prepared baking sheet, spacing them about 2 inches apart. 
Bake the cookies for 12-15 minutes, or until golden brown and set. 
Remove the cookies from the oven and let them cool on the baking sheet for 5 minutes before transferring them to a wire rack to cool completely
The combination of chewy and crispy in these cookies is ideal, and the chocolate chips give them an enticing chocolatey sweetness. This recipe can easily be altered by switching out the chocolate chips for alternative kinds, such as milk or dark chocolate, or by adding nuts or dried fruit for a novel twist.
Desserts
Desserts are a wonderful way to round off a dinner and appease a sweet tooth. They come in a variety of shapes and sizes, including traditional cakes and pies, creamy puddings, ice cream, fresh fruits, and sorbets. Desserts are a terrific place to experiment with new flavours and ingredients, such as adding spices like nutmeg or cinnamon or using honey or maple syrup as an alternative sweetener. Additionally, they can be prepared in many ways to satisfy a variety of dietary requirements or preferences, such as being vegan, gluten-free, low-carb, or keto friendly. They can also be a wonderful way to share with loved ones or entertain guests.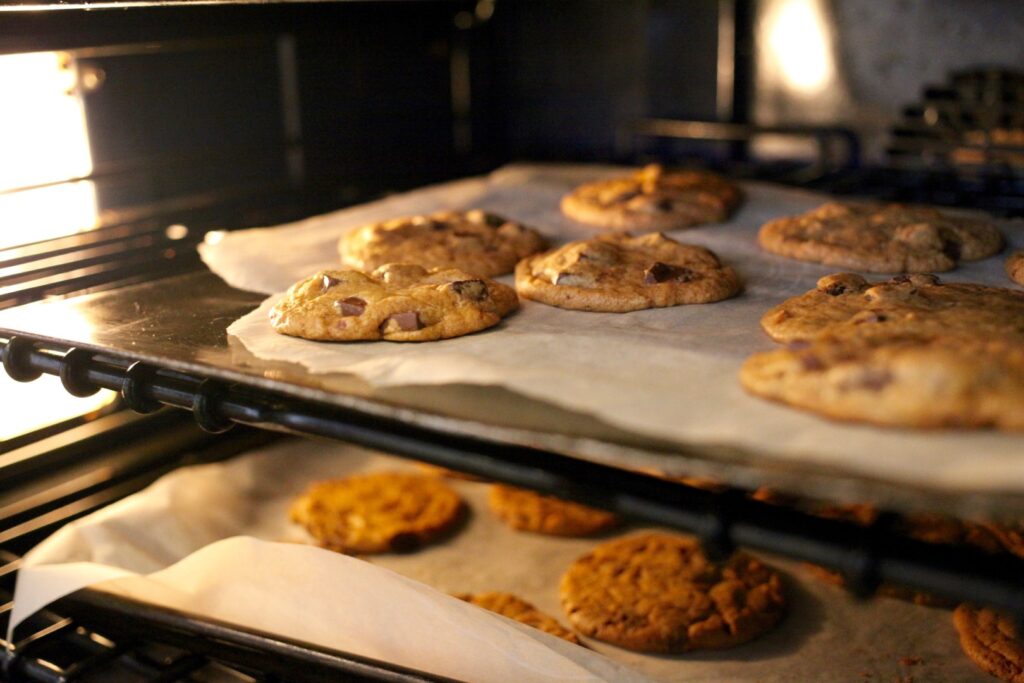 Here are two delicious dessert recipes that are sure to please any sweet tooth:
Classic Apple Pie:
Ingredients:
1 recipe for double crust pie dough
6-8 Granny Smith apples, peeled, cored, and sliced
1/2 cup granulated sugar
2 tbsp all-purpose flour
1 tsp ground cinnamon
1/4 tsp ground nutmeg
1 tsp lemon juice
1 tsp vanilla extract
1 egg, beaten (for egg wash)
Instructions:
Preheat your oven to 375 degrees F (190 degrees C) and roll out half of the pie dough to fit a 9-inch pie dish. 
In a large bowl, mix together the apples, sugar, flour, cinnamon, nutmeg, lemon juice, and vanilla extract. 
Pour the apple mixture into the prepared pie dish and top with the remaining pie dough. Crimp the edges to seal and brush the top with the beaten egg. 
Cut a few slits in the top of the pie to allow steam to escape. 
Bake the pie for about 50-60 minutes, or until the crust is golden brown and the filling is bubbling. 
Let the pie cool for at least 20 minutes before serving warm with a scoop of vanilla ice cream.
This dessert dish is a traditional one that is suitable for any season. It's the ideal treat because it combines apples that are both sweet and sour with a flaky crust and spices. For a new touch, try preparing it with different apple varieties like Honeycrisp, Braeburn, or Fuji.
Chocolate Mousse
Ingredients:
4 oz. bittersweet chocolate, chopped
4 oz. unsweetened chocolate, chopped
2 tbsp unsalted butter
6 large egg yolks
1/2 cup granulated sugar
1 cup heavy cream
1 tsp vanilla extract
Instructions:
In a heatproof bowl, combine the bittersweet chocolate, unsweetened chocolate, and butter. Set the bowl over a pot of simmering water and stir until the chocolate and butter are melted and smooth. 
In a separate bowl, whisk together the egg yolks and sugar until pale and thick. Slowly pour in the chocolate mixture, whisking constantly. 
In a separate bowl, beat the cream and vanilla extract until stiff peaks form. 
Gently fold the whipped cream into the chocolate mixture until well combined. 
Divide the mousse into individual serving dishes and chill in the refrigerator for at least 2 hours before serving.
This recipe is a rich and decadent dessert that is perfect for chocolate lovers. The combination of chocolate, cream, and eggs creates a smooth and creamy texture that is sure to satisfy any sweet tooth. You can also try experimenting with different types of chocolate such as milk or white chocolate, or adding in ingredients like nuts or fruit for a different twist.