In today's fast-paced world, where travel has become an integral part of our lives, finding an airline that offers a seamless and affordable experience is like striking gold. If you're looking for a carrier that perfectly blends affordability and quality, look no further than Vueling. With its extensive network, excellent service, and competitive prices, Vueling has emerged as a popular choice among budget-conscious travelers. In this blog post, we'll delve into the world of Vueling and explore why it stands out as a top airline option for those seeking a balance between cost and quality.
A Brief Introduction to Vueling
Vueling Airlines, often referred to simply as Vueling, is a Spanish low-cost carrier headquartered in Barcelona. Established in 2004, the airline quickly gained popularity due to its competitive fares and commitment to customer satisfaction. Today, Vueling operates flights to over 130 destinations across Europe, Africa, and the Middle East, making it a convenient choice for both leisure and business travelers.
Competitive Pricing that Doesn't Compromise on Quality
One of the most attractive aspects of Vueling is its commitment to keeping air travel affordable. By adopting a low-cost business model, the airline manages to offer competitive prices without sacrificing quality. With Vueling, you can fly to a wide range of destinations at a fraction of the cost compared to traditional carriers, allowing you to stretch your travel budget further. Whether you're planning a quick weekend getaway or a longer vacation, Vueling's pocket-friendly fares make it an appealing option.
Extensive Route Network
Vueling's extensive route network is another factor that sets it apart. The airline operates flights to major cities across Europe, such as London, Paris, Rome, Barcelona, Amsterdam, and many more. Whether you're dreaming of exploring the historical landmarks of Athens or indulging in the vibrant nightlife of Berlin, Vueling's diverse destinations ensure that you can easily reach your desired location. Additionally, Vueling also connects lesser-known gems, making it an ideal choice for travelers seeking off-the-beaten-path adventures.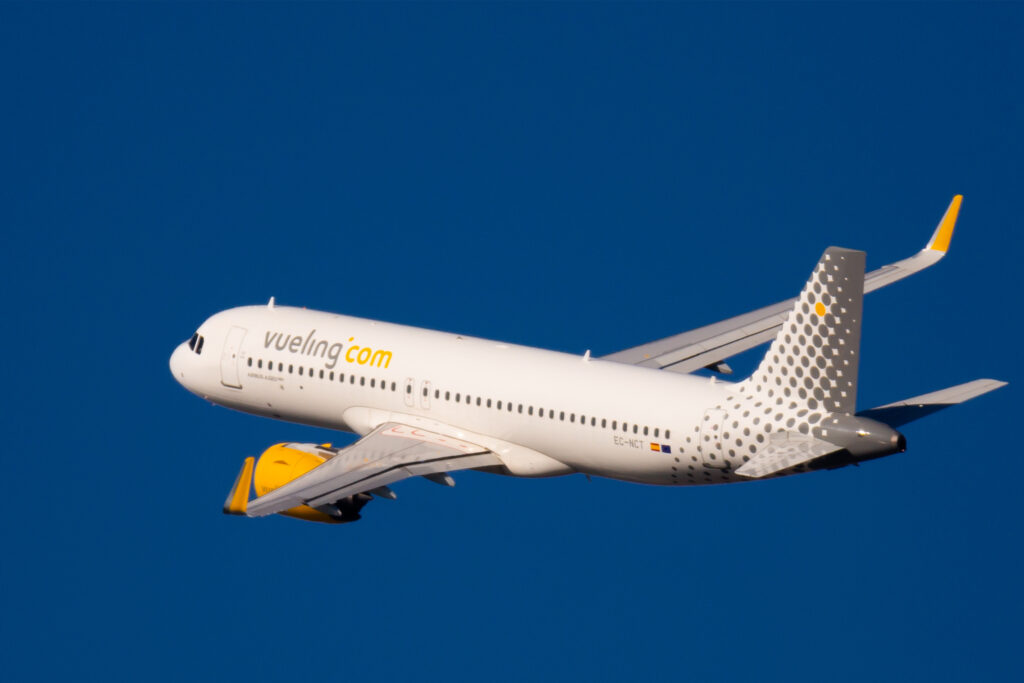 Seamless Booking Process
Booking your Vueling flight is a breeze, thanks to their user-friendly website and mobile app. The online platforms allow you to search for flights, compare prices, and choose the most convenient departure and arrival times. Additionally, Vueling offers various fare options, including Basic, Optima, and Excellence, allowing you to customize your travel experience according to your preferences and budget. Whether you're a budget-conscious traveler or someone seeking extra comfort, Vueling has a fare option to suit your needs.
Exceptional In-flight Service
Despite being a low-cost carrier, Vueling doesn't compromise on in-flight service. The airline's friendly and professional cabin crew ensures a pleasant and comfortable journey for passengers. Vueling's fleet consists of modern and well-maintained aircraft, equipped with comfortable seating and ample legroom. On longer flights, you can also enjoy a selection of snacks, meals, and beverages available for purchase on board. With Vueling, you can experience a high level of service without breaking the bank.
Customer Satisfaction at the Core
Vueling's dedication to customer satisfaction is evident in its commitment to resolving passenger queries and issues promptly. The airline provides various customer support channels, including a dedicated customer service helpline and responsive social media teams, ensuring that passengers can seek assistance whenever needed. Additionally, Vueling offers a user-friendly online platform for managing bookings, checking flight status, and making changes to your itinerary, providing convenience and peace of mind throughout your travel journey.
Frequent Flyer Program: Vueling Club
For frequent travelers, Vueling offers its loyalty program, Vueling Club. By joining this program, you can earn Avios points for every flight you take, which can be redeemed for discounts on future flights, seat upgrades, or even free tickets. Vueling Club members also enjoy access to exclusive promotions and priority services, enhancing their travel experience and providing additional value for their loyalty.
Vueling Airlines has undoubtedly carved a niche for itself in the aviation industry by striking the perfect balance between affordability and quality. With its extensive route network, competitive pricing, exceptional service, and commitment to customer satisfaction, Vueling has become a go-to choice for budget-conscious travelers seeking a reliable and enjoyable travel experience. So, the next time you're planning your trip, consider Vueling and prepare to fly high without breaking the bank!