Is your work schedule so hectic that you never have time to eat? Luckily, Burgers can save the day. Indeed, burgers in any form are never going to let you down.
You will always prefer buns with soft butter with juicy patties layered between sauces and fresh vegetables. Right? 

You will always prefer buns with soft butter with juicy patties layered between sauces and fresh vegetables. Right?
However, the question remains, "Where does one find the most mouth-watering burger in India's capital?" You guessed it right. Delhi. Delhi has many places where you can find the best burgers to satisfy a sudden hunger pang.
Hence, we've compiled a list of some of the best burger joints around Delhi in honor of our love for burgers.
·       Burgerama, DDA Market, Zamrudpur
When it comes to deciding upon the top places to grab burgers in Delhi, Burgerama always comes into play. If you are true Delhites, you have definitely heard of this outlet. For those who like cheeseburgers, Burgerama is the place to go. The restaurant serves very good cheeseburgers. Burgerama does not only offer cheeseburgers. You also have the option to select other flavors such as bacon Triple Cheese and The Bender, both of which are signature items.
·       Altogether Experimental, Westend Marg, Saket
Altogether, Experimental, Westend Marg, Saket is a famous burger outlet in Delhi that always provides you with exceptional food experience based in Saiyad Ul Ajab Extension, Saket. Here you will get the chance to grab some delicious burgers that include Korean Fried Chicken Burger and Korean Fried Tofu Burger, which come with sriracha aioli, sweet onion relish, and cucumber pickle, and whatnot. If we keep burgers and meals aside, you can go for some drinks here. This is the perfect place for all the young lads to enjoy with their mates and have great food.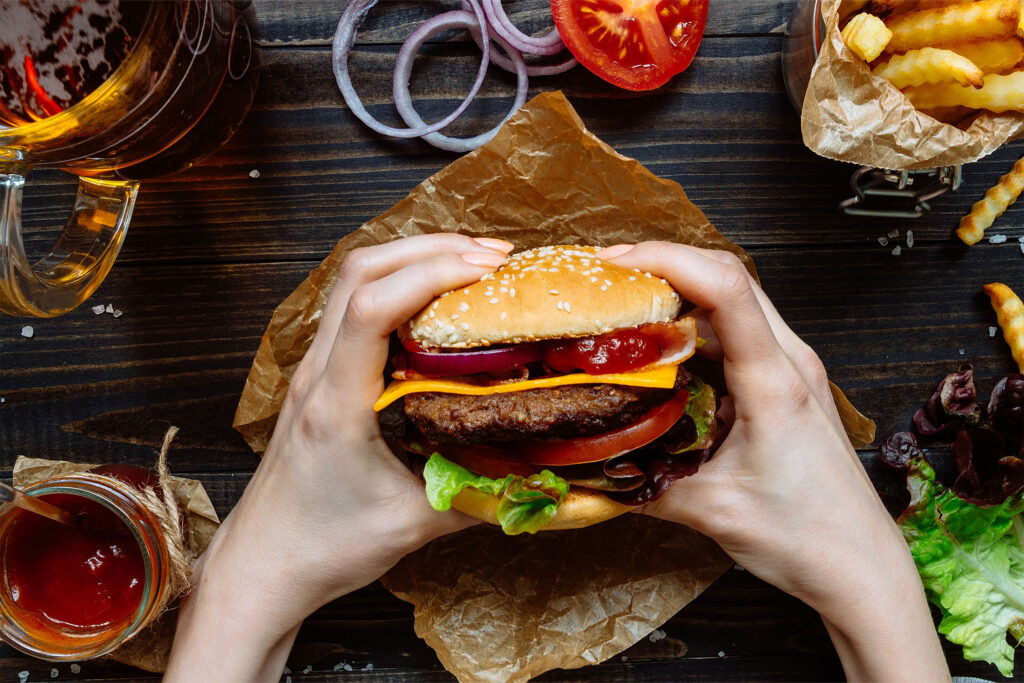 ·       H Man Malviya Nagar
American-style restaurant H Man specializes in BBQ and slow-cooked meats, making their burgers heaven for meat lovers. Lamb is their best-selling burger. It has two perfectly grilled double patties topped with their own in-house H Man cheese sauce, and it's delicious. It is definitely worth your time to visit there.
Price:
100 INR for two people
·       Monkey Bar In Vasant Kunj
Monkey Bar is the place to go in the city if you want to eat some good burgers. Try the Gastro burger with melting cheese and beef patty, ketchup, onion rings, and tomatoes served with potato chips at this bar, and you'll want to come back again soon! 
The Go Green burger, which has a veggie patty, mint mayonnaise, and American cheese, is another thing to look forward to. Vegetarians will be happy with it. You can also get a gastro burger, a green burger, and a mobar burger if you go to this place and want to eat something. In Delhi, the monkey bar made its mark with high-quality food and a beautiful setting. It's now one of the best burgers in Delhi.
Key Takeaways!
With so many burger restaurants in the city, it's hard to pick just a few. But we did our best to bring you the best burgers in Delhi so that you could enjoy them. So make a group with your friends and go to these places right away!