E-readers are now the preferred option for book enthusiasts looking for a convenient and portable reading experience in the modern digital world. The Kindle Paperwhite and Kobo Clara HD are two devices that voracious readers frequently choose. The goal of this blog is to evaluate various e-readers' features, capabilities, and overall reading experiences. This in-depth evaluation will assist you in deciding between the Kindle Paperwhite and Kobo Clara HD, whether you're a die-hard reader or thinking of branching out into the world of e-reading.
Company History
Knowing the history of the businesses that created these e-readers offers important insights into their ideas and methods for developing e-reading technology. The e-commerce behemoth Amazon, whose Kindle series of e-readers revolutionized the market for digital books, is the maker of the Kindle Paperwhite. The Kobo Clara HD, on the other hand, was created by Kobo, a Canadian company famous for its dedication to e-reading innovation and collaboration with independent bookshops.

Design and Display
The reading experience is greatly influenced by the display and style of an e-reader. The 6-inch, high-resolution e-ink display of the Kindle Paperwhite has integrated illumination for a clear, glare-free reading experience even in direct sunlight. The 6-inch e-ink display of the Kobo Clara HD also has ComfortLight Pro, which offers a balanced and adjustable front light for pleasant reading in any lighting situation. Bookworms can choose an e-reader that matches their visual preferences by contrasting the resolution, illumination, and overall aesthetics of both devices.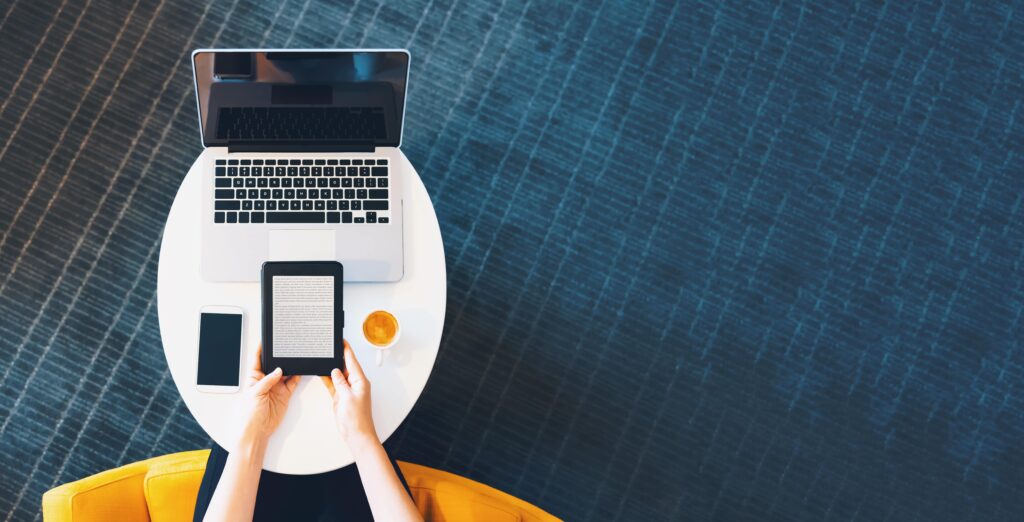 Formats and the Content Ecosystem
E-books must be available and compatible with a variety of file types in order to provide a varied reading experience. The Kindle Paperwhite easily connects with Amazon's extensive e-book ecosystem, providing a wide range of titles, including top sellers, that are only available on the Kindle platform. It supports a number of file types, including TXT, PDF, Kindle Format 8 (AZW3), and Kindle (AZW). The Kobo Clara HD, on the other hand, supports formats like EPUB, EPUB3, PDF, and more and draws from Kobo's enormous library, which has millions of e-books. Bookworms can pick an e-reader with access to their favorite books and chosen file formats by assessing the content catalog and format compatibility.
Reading Features and Experience
Users may evaluate the degree of customisation and convenience each device offers by comparing the reading experience and features supplied by the Kindle Paperwhite and Kobo Clara HD. The Whispersync function, which enables smooth synchronisation across devices, and Kindle Unlimited, a subscription service that provides access to a sizable library of e-books, are both available on the Kindle Paperwhite. It also offers customizable settings for text formatting, typefaces, and font sizes for a customised reading experience. Similar functionalities are available with Kobo Clara HD's OverDrive connection, allowing customers to download e-books from public libraries directly to their devices. Additionally, it offers sophisticated reading statistics, font styles, sizes, and margins that are all adjustable.
Connectivity and Battery Life
Practical factors for book readers who want continuous reading periods include battery life and connection. Long reading sessions are made possible by the outstanding battery life of the Kindle Paperwhite, which lasts weeks on a single charge. For quick book downloads, it offers Wi-Fi and optional cellular access. Additionally, the Kobo Clara HD has a long battery life and a Wi-Fi connection. It will be easier for users to select an e-reader that fits their reading preferences and lifestyle if they evaluate the battery life and connectivity capabilities of both devices.
Both the Kobo Clara HD and the Kindle Paperwhite are excellent alternatives for book lovers looking for an e-reader. With its seamless integration into Amazon's extensive e-book ecosystem, superb display quality, and extra features like Whispersync and Kindle Unlimited, the Kindle Paperwhite impresses. The Kobo Clara HD, on the other hand, stands out because to its connectivity with OverDrive for library borrowing, partnership with independent booksellers, and personalised reading experience. The choice between the two e-readers ultimately boils down to individual tastes, including preferred reading styles, content choices, and desired features. Book lovers may select the e-reader that will make them happy and allow them to lose themselves in their favourite books for hours on end by taking into account variables like display and design, content ecosystem, reading experience, battery life, and connection.