Delhi has for sure cast a spell on all of us when it comes to food! We all can agree that Delhi can be called a palette of flavours! From cute, cosy cafes to glitzy places, Delhi has got you covered under its umbrella. To dig deeper into the sweet tone of the palette we can feel our sweet tooth craving for all the chocolaty delights, from gourmet chocolates, cupcakes, and pies to macaroons and doughnuts; Delhi is brimming up with places that offer such exquisite food.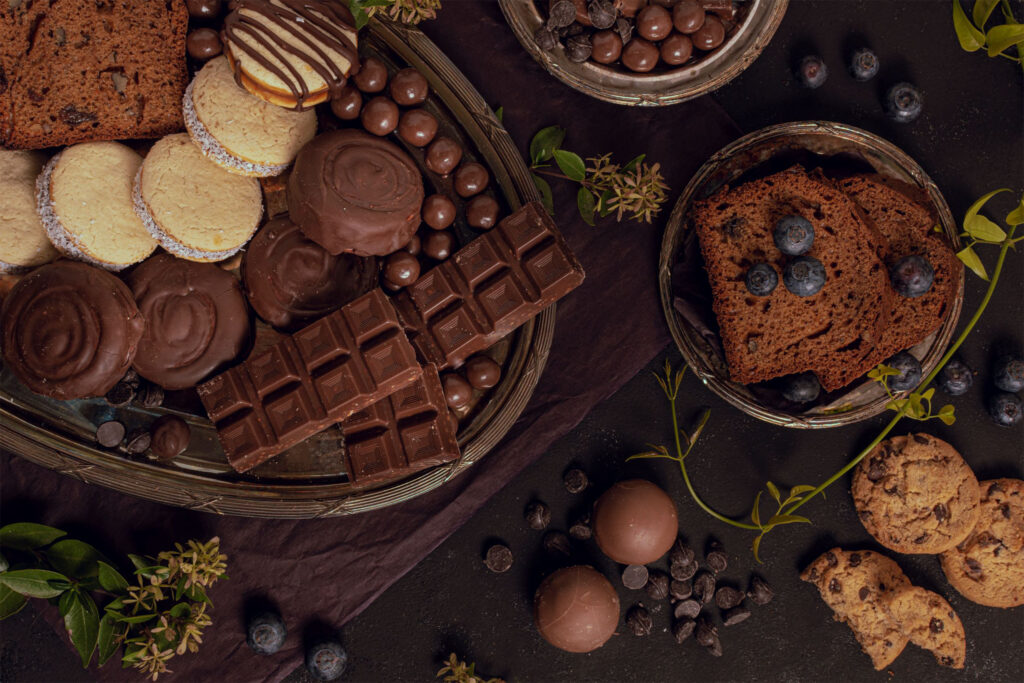 So, wake up the willy Wonka in you and explore the chocolate factory on the Delhi-way!

If you consider yourself a chocolate person and want to justify the title, then these places should be on your list.
Chocolateria San Churro – 1, M Block Market, GK II
Price – 500 onwards
This place has got a lot to offer when it comes to satiating your chocolate cravings. Dip all your stress into the heavenly chocolate fondue with combinations ranging from marshmallows to brownies, fresh fruits, churros etc. So, next time whenever you want a taste of both South Delhi and chocolate hit the spot with your pals and set back and relax in the comfortable and cosy ambience that this place offers!
Theobroma- multiple outlets across Delhi
Price- 150 onwards
This place for sure justifies its meaning, the food of the gods! they have a decent offering and provide a sweet experience for all your chocolates, brownies, mousse, cookies, cupcakes, hot chocolate cravings! The store has a Greek vibe and can give you the Greeky experience (oh-so-divine) without burning a hole in your pocket! They also do customize orders for their sweet customers! Who knows this place can be your next go-to place for those catchups?
Colocal – Indian Origin Chocolates
Price- 450 onwards
Colocal offers you the experience of Bean-to-bar, where they take your ship of chocolaty expectations to next level by letting the chocolate lovers know about how they make their chocolates from scratch and with fine quality ingredients. The tropical setting in the Dhanmil compound offers a relaxing and joyful experience that should be your next stop for the weekend chocolaty indulgence! You can also trust this place for your gifting needs and can even make your combination of choices!
Location Lado Sarai 
Price – 300 onwards
Rose Café presents you with old-world vibes that will take you back to the good old days! this place is perfect for you to experience the modern taste while enjoying the old era vibes. The vintage setting of the place makes it stand out! The place has a lot to offer on its menu from fresh-baked desserts like cakes, brownies to tarts pancakes and more. All the items are made from quality ingredients for your fine taste. Make sure to visit this place with your family and friends to treat them to a vintage experience!
Location- Multiple locations
Price- 200 onwards
The high-end French culinary experience offered by the place will surely make you feel like a Parisian! The place doesn't compromise when it comes to providing a luxurious chocolaty experience on its menu. Indulge yourself in a variety of offerings like chocolate pastries, macaroons, brownies and more. Handcrafted with perfection and made from quality ingredients this place offers an elegant ambience and comfortable sitting space! Treat yourself to a luxurious French experience and feel like a Parisian. 
These places can satiate and take your chocolate dreams to the next level! So don't choco-late to try these places!