In recent years, it has become increasingly common to combine high and low fashion. Combining expensive or designer attire with less pricey or fast-fashion goods is what it entails. The best of both worlds are combined in this fashion trend, allowing you to keep the overall appearance within your price range while showcasing expensive pieces.
To produce a distinctive and fashionable ensemble that displays your taste and sense of style, high-end and low-end fashion should be combined. Finding the ideal mix of high-end and low-cost things is crucial if you want to seem put together and professional while also being at ease and self-assured in your skin.

It is now simpler than ever to combine high-end and low-end fashion thanks to the growth of online shopping and fast-fashion companies like Shein. Without going overboard, you may build a wardrobe that expresses your particular style by purchasing both expensive and budget-friendly items.
The benefits of mixing high and low-end fashion
Cost-effectiveness: You can stretch your fashion budget and get more for your money by combining expensive items with more affordable ones. This enables you to add fashionable and reasonably priced things to your collection while still making investments in long-lasting, higher-quality clothing.
Increased adaptability: By combining high-end and low-end fashion, you may put together a variety of looks that are appropriate for both casual days out and formal occasions.
Personal expression: Wearing a mix of high-end and low-end clothing allows you to show off your taste and style. You can flaunt your devotion to designer labels while also displaying your knack for finding stylish items at reasonable prices.
Sustainability: You can lessen your environmental impact by choosing a combination of high-end and low-end clothing. You can choose to purchase a few pieces from sustainable and ethically produced fast-fashion companies like Shein rather than buying all expensive apparel, which is frequently made using less sustainable materials and manufacturing processes.
Confidence-boosting: Increasing your sense of confidence can have a significant impact on your disposition and general attitude. You can design distinctive ensembles that make you feel confident and fashionable while remaining within your budget by fusing high-end and low-end fashion.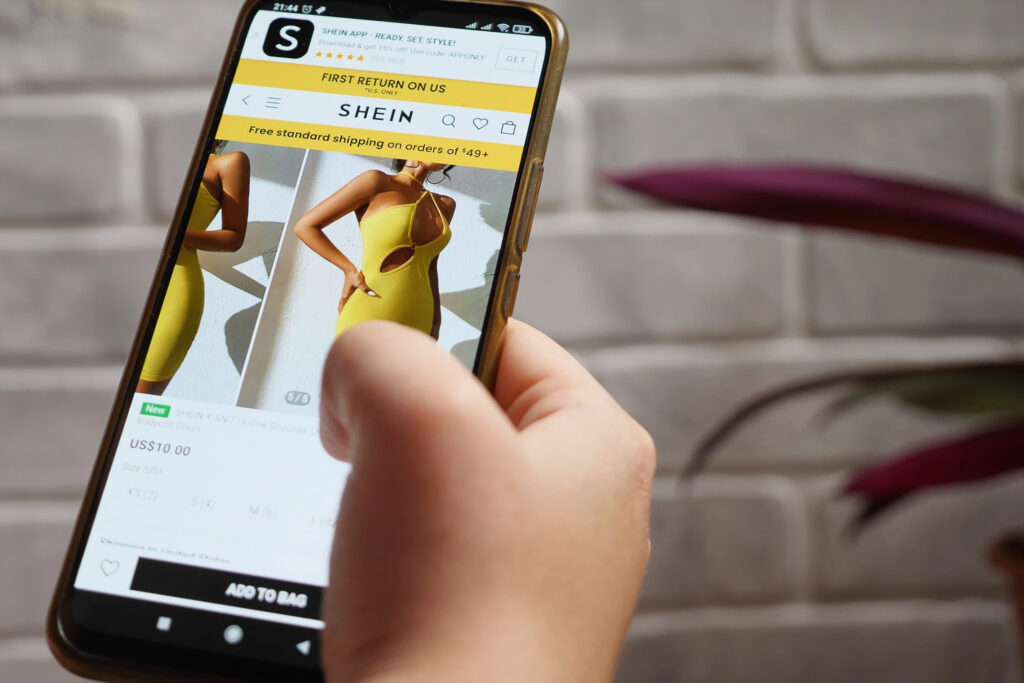 How to mix high and low-end fashion with Shein
Identify your expensive items: Identify the high-end clothing and accessories in your closet, such as statement jewellery, expensive handbags, and shoes. The focal point of your clothing can be one of these pieces.
Select cheap pieces from Shein: Look through Shein's selection and choose products that go well with your high-end furnishings. Look for things that may be readily combined with other items in your collection and are flexible.
Consider quality: When selecting inexpensive items from Shein, be sure to pay attention to the quality of the materials employed. Look for products that are well-built and composed of durable materials that will last over time.
Mix and match: Try out various combinations of upscale and budget-friendly clothing, and don't be hesitant to try something new. You can wear a Shein shirt with a high-end designer blazer or a Shein skirt with high-end heels.
Accessorize: Adding accessories gives any outfit a polished appearance. Shein apparel goes well with designer jewellery, watches, and handbags.
Pay attention to proportion: It's crucial to consider how the pieces you're wearing fit together when blending high and low fashion. Keep the more expensive pieces in the spotlight and add less expensive pieces to balance out your ensemble.
Tips for successfully mixing high and low-end fashion
Invest in quality: When it comes to high-end things, it pays to spend money on items constructed and manufactured of high-quality materials. These things will be the foundation of your wardrobe and last longer.
Stick to neutral colours: Keep your clothing in neutral tones because they make it simpler to mix and match different pieces. Neutral colours include black, white, and beige. Create a neutral foundation and work outward from there.
The key is balance: It's crucial to balance out expensive things with more reasonably priced ones to get a cohesive design. To achieve this, combine a pricey item with cheaper attire or accessories.
Enjoy combining patterns: Adding interest to your attire by combining patterns can be a lot of fun. Consider wearing a designer printed shirt with a solid-coloured Shein skirt or slacks.
Think beyond the box: Don't be hesitant to experiment with unique pairings. Don't be scared to explore; mixing high and low fashion is all about personal expression.
Pay attention to fit: It's critical to ensure that your clothing fits properly no matter what you're wearing. Whether expensive or inexpensive, properly fitted clothing will always make you look more put together and polished.
Confidence is key: When merging high-end and low-end fashion, confidence is essential. No matter what, if you feel happy about your attire, it will show.
Conclusion
Shein is a fun and economical method to mix high-end and low-end fashion to make fashionable and distinctive outfits. You may get more for your money, show off your particular flair, and lessen your influence on the environment by combining expensive things with more reasonably priced ones.
Shein has a large selection of reasonably priced clothes, shoes, and accessories that will help you put together the ideal appearance, whether you're a seasoned fashionista or you're just beginning to experiment with fusing high and low fashion. Shein makes it simple to acquire inexpensive products that go with your high-end items and highlight your particular style thanks to its innovative and adaptable options. So, don't be scared to experiment with different combinations and have fun with your wardrobe. With a little imagination, you can put together looks that are both fashionable and affordable while still showcasing your individual sense of style.