Juices are not only refreshing for this scorching heat of summers but also very healthy. Juices are an amazing combination of taste and health benefits. Juices serve many benefits like keeping you hydrated, cleaning the toxins in your body, and are easy to make. In summers you would love to have some natural juices which will help you fight up the outside heat.
You might assume that healthy juices can replace your meals. But no, instead you need to make them a part of your meal. Making juices at home is not difficult. Though there are many juice shops and packed juice cans available. But fresh juices made at home with natural ingredients are more nutritious. All you need for this is some right tips and amazing recipes. This blog will provide you with some of the quick to try fresh and healthy juice recipes and also some tips for making healthy juices at home.

Pro Tips for making healthy juice at home
Making juices at home isn't much tedious task. But this can be more amazing if you get some right tips to make juices at home. Here are some tips to make healthy juices at home.
Make use of seasonal fruits and vegetables: It is possible to make juice out of any fruits and vegetables. But fresh fruit and vegetable juices have more health benefits. So, try to use more seasonal fruits and veggies for your juices.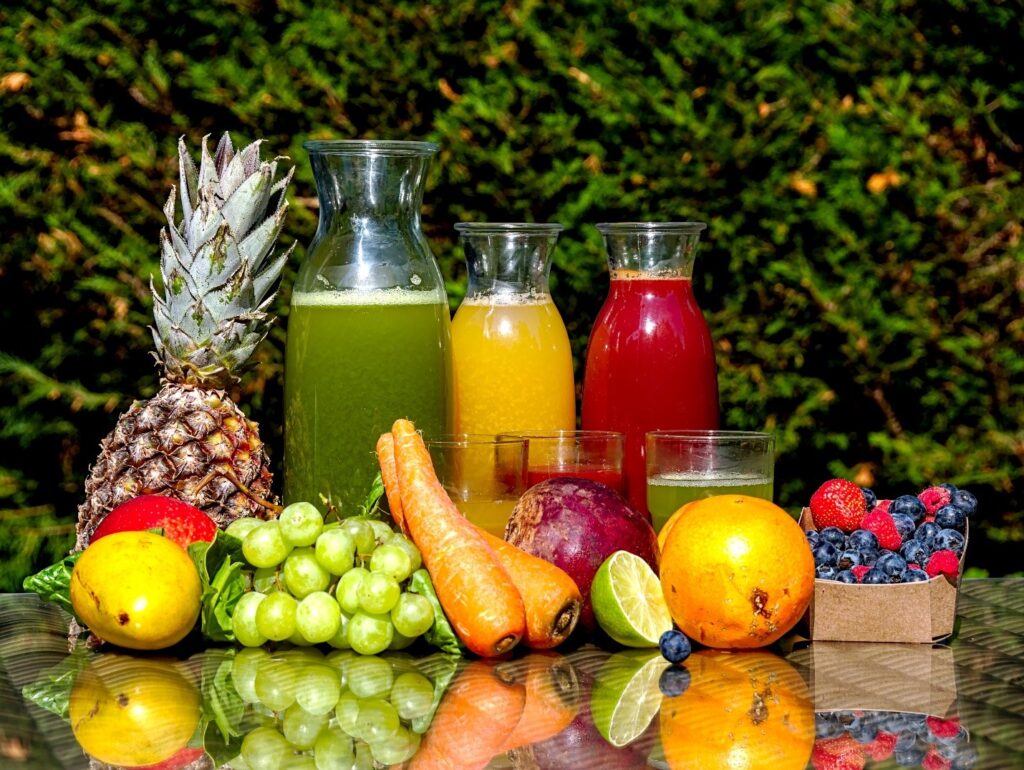 Make your juice colorful: That doesn't mean adding artificial consumable colors to your juice. Instead, you can use a mix of some colorful fruits and vegetables. It is said that colorful fruits add up more nutrients to the juice.
Make use of peels and seeds also: If possible, you must try to use the peels and seeds also in your juices. These peels and seeds are a source of fiber so you must try adding them to your juices sometimes.
Keep it natural as much as possible: Some of you might like to add sugar or some kind of masalas to your juice to make it tangy. Sometimes doing this for good taste is okay. But mostly try to consume your juice in its natural flavour.
These are some of the amazing tips to make a refreshing glass of juice for yourself at home.
Healthy Juice Recipes to try at home
After knowing how to make healthy juices at home. Now it is time to have a sneak peek into some of the simplest do juice recipes. Have a quick look at them so that you can beat up the summer heat and stay hydrated.
Watermelon Litchi Granita: Watermelons are easily available in summers and are a great fruit to keep you hydrated. Add some pieces of watermelon and lychee, and then add ginger and mint leaves for a refreshing taste and lemon for tanginess in the juice. Mix them all in a juicer and top it with ice and mint leaves.
Cool Kiwi juice: Relish yourself with the refreshingly sweet and tangy taste of kiwi. Combine the kiwi with cucumber and Thai ginger blend it all and enjoy the refreshing glass of juice. Pro tip: use bean sprouts for toppings.
Mango juice: The king of fruits and the delight of the summer season, mango juice is a must-have juice for the summer season. All you need is mango pulp, lime juice, and some spices for the taste. No need for toppings just pour it in a glass and served it chilled.
Pineapple mango twister: The mango juice is a delightful summer drink. But is it necessary to experiment with them? k? Consider mixing fresh pineapple and mango pulp along with lime juice, cumin powder and black salt in a juicer. Serve the twister with the toppings of mint leaves and ice cubes.
The berry khatta: Kala khatta is the famous and most preferred flavor in summers. So why not mix this tangy flavor with mulberries, lime orange and grape juice and serve it chilled. Surely it will be a tantalizing drink for you this summer.
Plum ness: Are you in the mood to reboot yourself with a healthy and filling glass of juice? Then you got this recipe which just requires two ingredients plum and condensed milk. Use the juicer to mix them well and then serve it chilled. It is perfect to keep up on a hot summer day.
These were some of the simplest tries at-home juice recipes for you. Make sure you try some of these recipes at home this summer to keep yourself refreshed and hydrated.
Conclusion
Juices are a great supplement if you are a health-conscious person. They satisfy your fitness goals as well as your taste buds. The best thing about juices is that they not only are a part of your daily meals but can also be prepared and served if you are hosting a party. They are perfect for the menu no matter whether the menu is for yourself or a party. So do try some juices this summer and avail their health benefits.