Grocery shopping can be a heavy burden on your shoulders every month. It not only takes away a big part of your monthly paycheck but can also cause stress to make a list, plan the budget and pick out every single thing you need without forgetting about it.
To lessen your burden, we have listed 8 tips to make your grocery shopping smooth and easy. Stay till the end to know more.

Stop shopping on Sunday afternoons.
The time bound individuals making the way to finish off a heavy task on their to-do list and complete their grocery shopping before the start of the week might sound very productive and motivating as well. However, Sunday afternoons are the heavily crowded times at the grocery stores.
The common times for the working class people, Sunday afternoons might never be fun unless you want to fight the crowds and feel stuck in the long lines to find them over-picked items from the sales rack.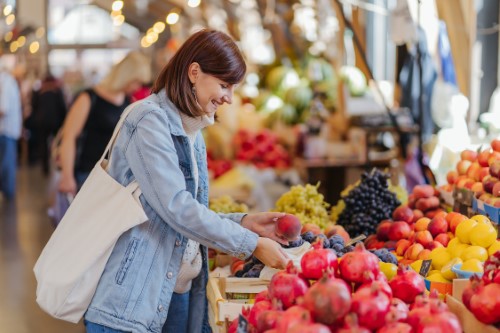 Make sure to keep an updated list.
Believe me, as I say, no matter how sharp your memory is, you cannot remember a list of maybe 20 items or even more while browsing hundreds of things in a grocery store. Always carry a list while you wander around in the store and keep the list updated.
Meal planning can help you save time from figuring out what to buy, what not to buy, and the quantity.
Shop after having a proper meal.
Past researchers prove that shopping for food items on an empty stomach leads to spending more than necessary. It also makes it hard to concentrate while you are feeling hungry, which can also lead to buying unhealthy snacks and items that you don't even eat.
Spare meat and dairy for the last.
If you are not a vegan, this top might be of your help. It is that lengthy shopping trips and long lines on the aisle for check out can affect the temperature of the dairy items and meat. So it is suggested to shop for dairy products and meat on the last spot when you are ready to go.
Don't fall for the SALE cult.
It is hard to resist yourself picking up the item with the flashy sales sticker on top. But what consumers do not realize is that other options may be available at much cheaper prices.
You must check out other available options and their sizes and quantities by comparing the prices to make a rational choice.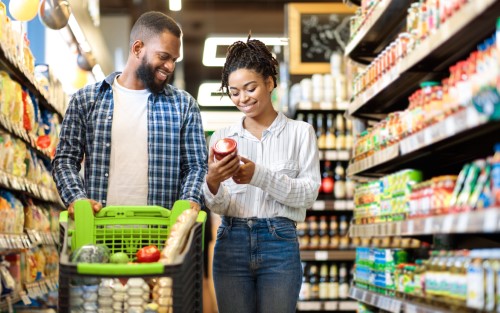 Fresh foods are always on the back of the rack.
The flea markets or the stockers always stock the food items in a way that the older stock appears to be on the top of the front, and the newly delivered food items are kept behind the racks.
This first-in, first-out policy keeps the staff regulated accordingly. However, if you are reaching for products with a distant expiration date, it is suggested to grab the food items such as dairy produce, eggs, vegetables, or fruits from the back of the shelf.
Shop for fresh foods during the time of restocking.
Shipments and deliveries often arrive at the local grocers early or later in the evening when the store prepares to close. This makes the best time for shopping early in the morning or later in the evening for fresh foods and vegetables.
So you have to find out when your Store shipments arrive and are restocked so that you can grab the items right out of the farms.
Always carry your bags.
Reusable Tote bags are not only good for the environment but also a reliable option and a hygienic alternative to the plastic bags. Carrying your bags will help you know how much you have to shop and easy for you to carry them around on your way back.
Make grocery shopping fun with Morrisons!
If you are searching for options to save more on your grocery needs, then you will love the services Morrisons offers. The fourth largest supermarket chain in the United Kingdom, Morrison is your portal to a fresh and sustainable supermarket. With exciting Deals and huge discounts on your favourite meals, Morrisons Moto comes out as the affordable food everyone can enjoy.
Clients that Trust
With a large family of over 9 million customers, Morrisons has been providing its best possible services since 1899, which William Morrison established as the bread and butter stall at that time. Today Morrisons are enlisted under the UK's FTSE 100 index with the trust it has built over the century with the customers.
Widest range and categories
From groceries to seafood, bakery to frozen items and drinks, Morrisons has everything you need. Their user-friendly application, which is very convenient to use and order online with the fastest deliveries and greater benefits, has also been the game changer.
Bigger Discounts
Morrisons offer a huge range of discounts to help you save big on your budget with meal deals and bundle offers. You can also avail Morrison's delivery passes to access the royalty of not having to pay simultaneously when you make an order.
Additional perks of Delivery Pass
To sign the delivery pass all you have to do is choose where you want the order delivered. You can choose anytime or 7 days or the midweek days that are Tuesday, Wednesday, and Thursday. The next step is to choose the validity of the pass. You can pick from month, six months or even annual plans to save big numbers on online deliveries.
Conclusion
Whether it is a food item, a household item, or clothing apparel, choose Morrisons for the quality and assurance. You can also get £10 off on spending £50 for purchase online, with an additional £20 off on your three purchases if you sign up to our website to be the first to know our latest deals and offers. So, check out Morrisons official website and begin an extraordinary journey to save big by spending more.